Celebrate Indian festivals with this rich, divine and toothsome

Masoor Daal Halwa

, which is prepared with Massor Daal - red lentils, ghee and sugar and its taste enhanced with aromatic spices such as cardamom!






Few days back I was loading pictures from my computer to external hard drive to create some space and realised there were many dishes I'd made, clicked pictures , but hadn't blogged about. Thought let sort out them first before I crave, cook and click for new ones and blog about.
In that folder I found
Masoor Daal Halwa
recipe pictures and thought it's right time to give them attention as so numerous and varied Indian festival season is already here. Festivals are at the heart of people's lives in India and Indians living abroad. One can celebrate any festival with so much fun and special food and sweets.
This Masoor Daal Halwa, I prepared last year for prasad. Method of this halwa it's exactly like Moong Daal Halwa. It can be prepared for any festivals or get together. The taste was the same as Moong Daal Halwa, delicious and yummy! So why not prepare this Halwa in this festive season and enjoy with friends and family.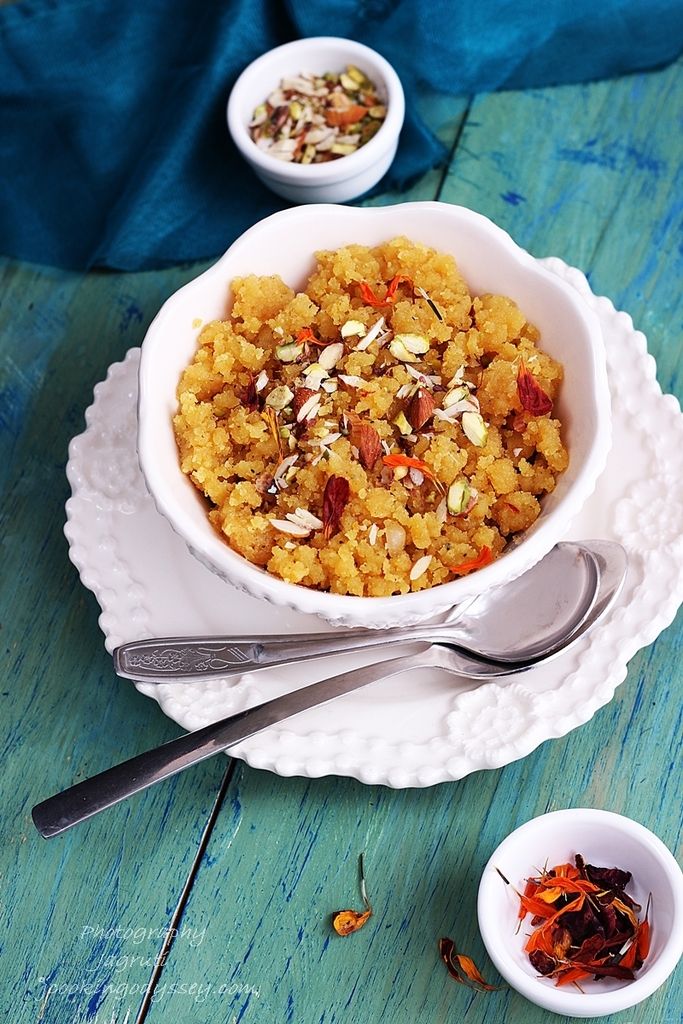 Masoor Daal Halwa

Halwa made from Masoor daal and flavoured with cardamom and nuts. It's a perfect dessert for any festival or Party!
Ingredients
150 g

Masoor Daal -Red lentils

75 g

Ghee

150 g

Sugar

450 ml

Milk boiled and hot

1/2 tsp.

Cardamom powder

2 tbsp.

Slivered almonds and pistachio

1 tsp.

Edible flower petals - Rose
Instructions
Clean, wash and soak dal for 5-6 hours in water.
Once again wash daal in clean water and grind coarsely in food processor without any water.
In a heavy bottom pan or kadai heat ghee, add daal and stir fry daal over very low heat until it's raw aroma completely gone.
Keep stirring the halwa mixture until you can see ghee separating from the daal mixture.
You can smell the frying mixture and see change of colour too.
It will take minimum 35-40 minutes.
Now add hot boiled milk and keep stirring continuously.
After 5-7 minutes add sugar and keep stirring the mixture.
Keep stirring until once again ghee separates from the halwa.
This will take another 18-20 minutes.
Now add cardamom powder, mix well.
Transfer in a serving bowl garnish it with slivered nuts and flower petals.
Enjoy !
Details
Prep time:
Cook time:
Total time:
Yield:

4-6 people
Thank you for stopping by and reading this post :)