Easter spells out beauty, the rare beauty of new life. ~ S.D. Gordon
Happy Easter to you all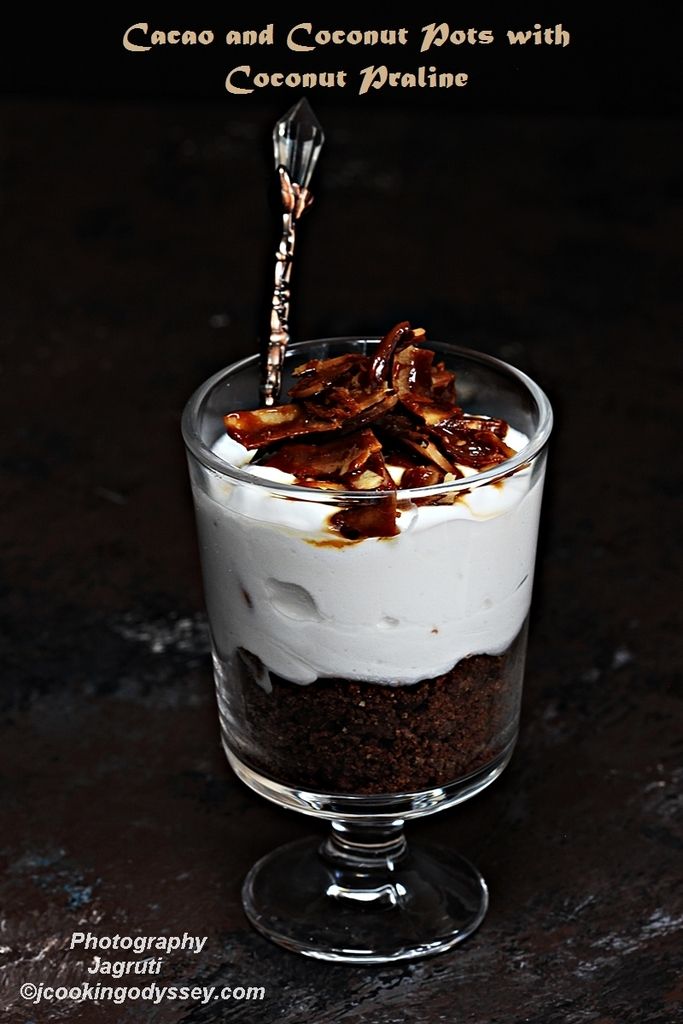 Cacao and Coconut Pots with Coconut Praline
Whole Wheat Coconut Raw Chocolate shortbread, Coconut Mousse and Coconut Praline dessert perfect as a stylish finish to an Easter meal.
Ingredients
50 g

Coconut shavings

100 g

Golden Caster Sugar

150 g

Wholewheat flour

75 g

Extra virgin Organic coconut oil

4 tbsp.

Raw cacao powder

3 tbsp.

Sugar

Pinch

Salt

as you need

chilled water

3 can

Coconut milk
Instructions
Keep coconut milk can in the refrigerator for 24 hours or more.
To make coconut praline slowly caramelize sugar in a pan on a low heat, meanwhile toast the coconut shavings in the oven till light golden.
Mix the caramel and coconut together and pour onto parchment paper and let it cool completely and allow to set.
In a bowl whisk together flour, sugar, salt and cacao powder.
Add coconut oil and rub the flour mix and oil with your fingers and til you get crumbly mixture.
Add one tablespoon of chilled water and try to form a dough, if needed add one tbsp water.
Once dough is formed let it set for 15 minutes at room temperature not in the fridge.
Pre heat oven to gas mark 4.
Roll out the dough in a circle on a lightly floured surface about 1/8 inch thickness.
Cut out into any shape or leave it as it is, because you are making crumbs out of it.
Bake them for 12-15 minutes.
Transfer them on to rack and let it cool completely.
To assemble the dessert make crumbs by crushing baked biscuits with hands.
Place 4-5 tbsp. of crumbs in a serving bowl or glass.
Take out the coconut milk can out of the fridge and separate carefully solid coconut cream with the spoon into mixing bowl.
Beat the coconut cream in a electric mixer until it gets thicker and holds it's shape.
Spoon it onto crumbly mixture glasses.
Break the praline and scatter over the biscuit and coconut mixture or top with a few mini candy eggs.
Serve immediately.
Enjoy !
Details
Prep time:
Cook time:
Total time:
Yield:

8 servings
Thank you for stopping by and reading this post :)